Malibu Day with Summer Healy
I grew up in sunny Thousand Oaks California, the perfect suburbs right in between my two favorite surf towns. A 25 minute drive through the canyon to the beautiful blue oceans of Malibu perfect for summer, or a 30 minute drive into the cool air of Ventura just in time for winter, where I currently live. Although Thousand Oaks was a slow quiet town the secret escape was always the beach, I think that made me appreciate the ocean so much.
My favorite Malibu surf spot with no surprise is Malibu first point, it's the most perfect point break around! The place is pure magic, I often joke to myself that there's a secret hidden key that only the best surfer has access to that turns on the waves, maybe one day I'll get that key or maybe I should stop watching so many fairy tails. Although that place is pure magic. Once I found first point I couldn't leave, I feel almost spoiled to call that place my home break. I'll go to the most tropical beautiful places and miss Malibu, I just can't stay away. It's not just a place with the most perfect wave but it's the place I found my soul family, it's always a guarantee that you'll see a friend to catch up with and catch some waves with.
When it's time for the next big swell me and my boyfriend Casey will take his van to camp out, we camp in his 1989 Astro pop up camper van. It sure gets the job done, perfect little stove to cook up dinner or some coffee in the mornings. Although it is slow we try our hardest to be patient to get to the next surf spot! It's perfect for surf contest to chill out in between heats and take a nap or for all the friends to come hangout & play some cards in! It feels a lot like a little home, it's our escape vehicle.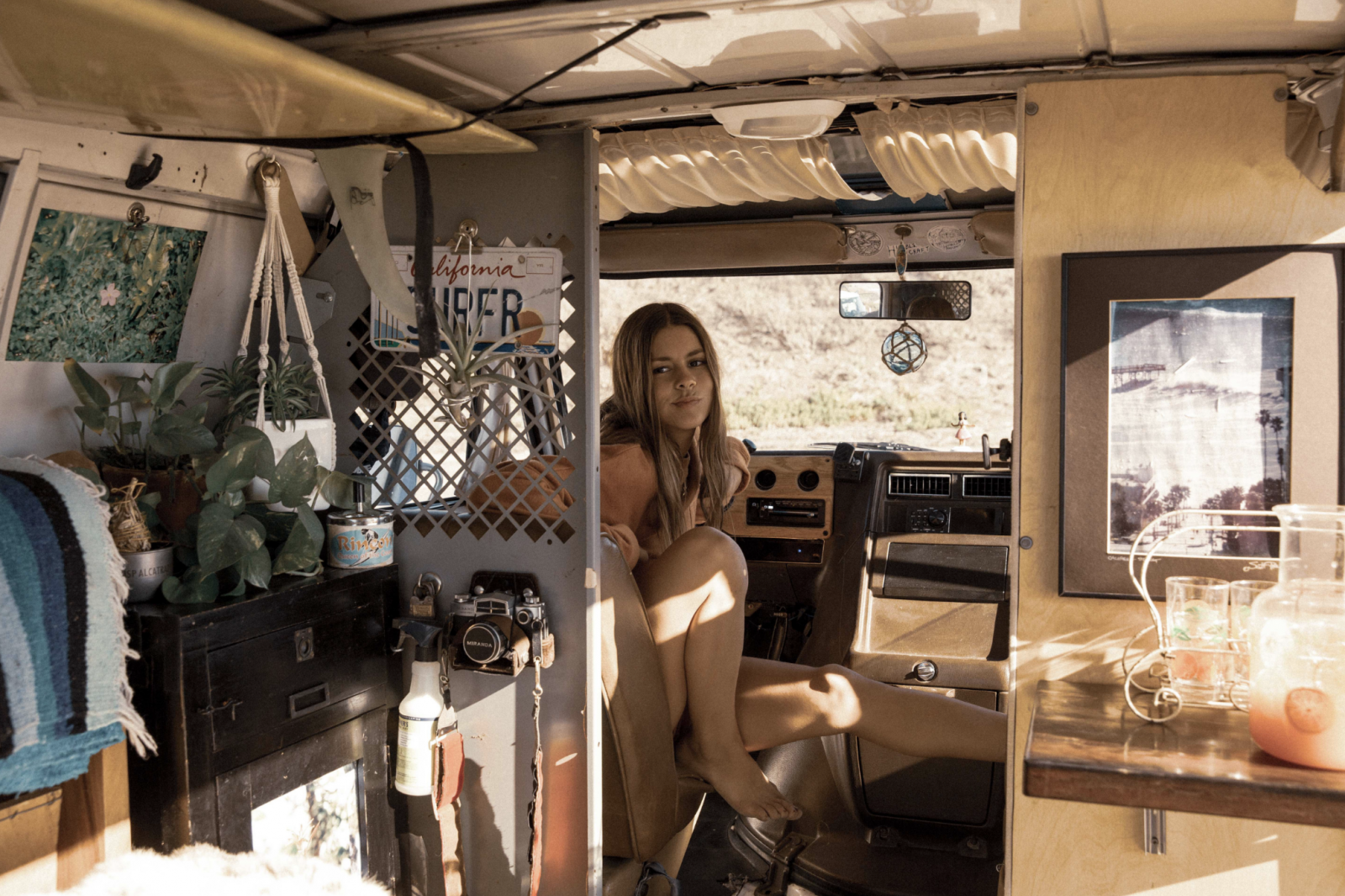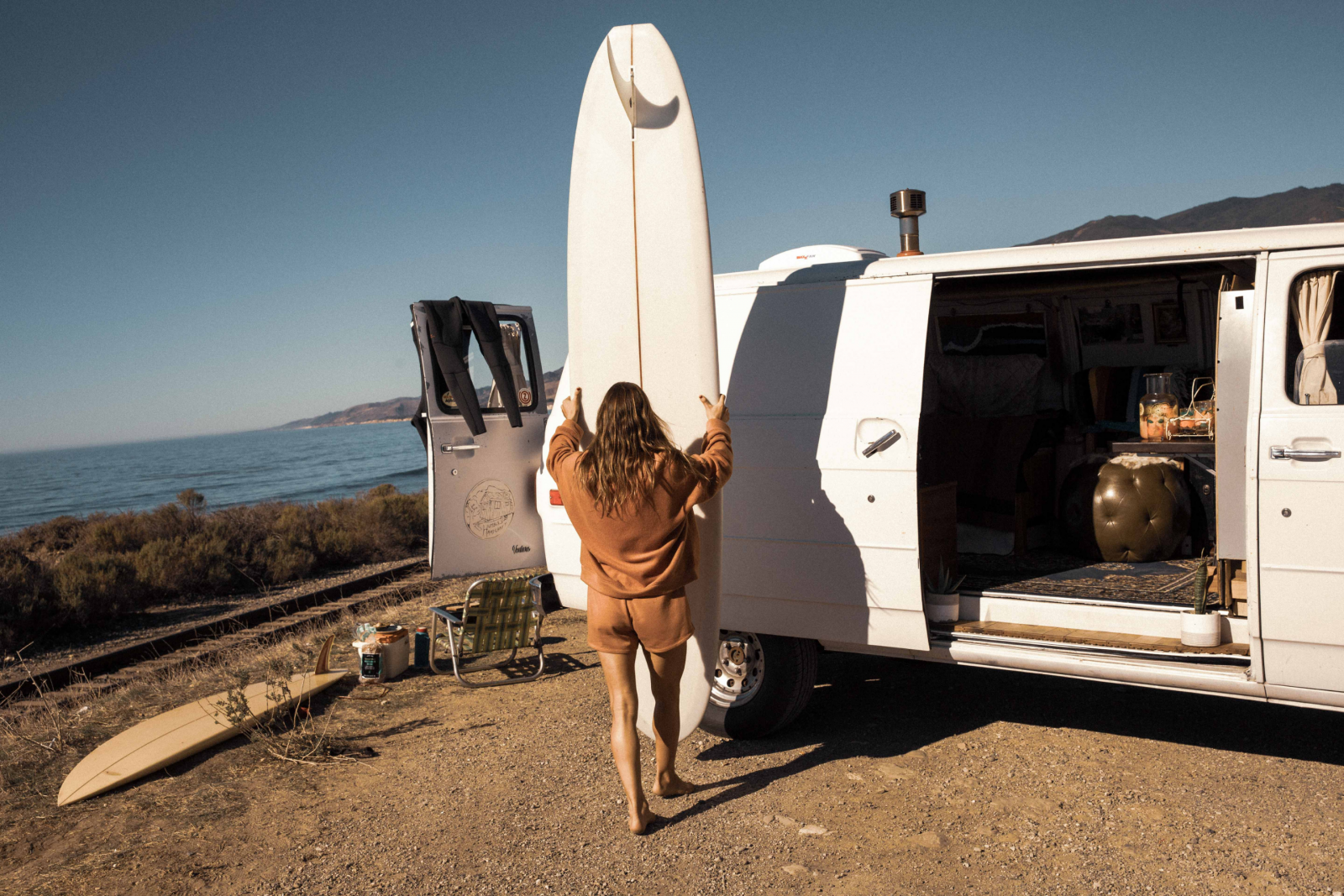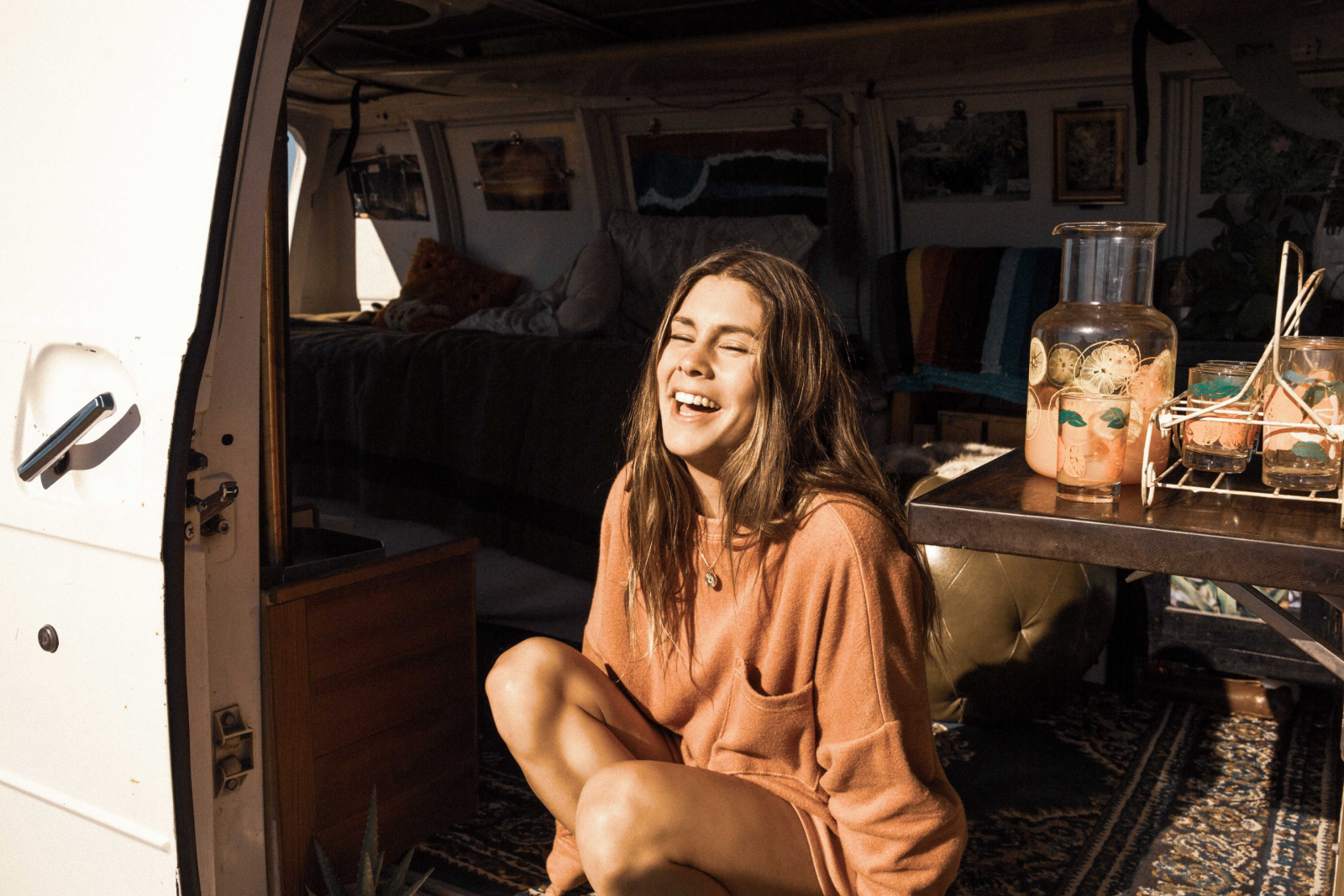 I was raised by a dad who is in love with the ocean, every single weekend without exaggeration we were camping north of Malibu. My dad always surfed, I was always infatuated with it but too scared to try. My dad would put me on his board at 4 years old and catch waves with me on the front of his board, which got me used to being on a board and in the ocean. I would say I got into learning how to surf at about 12 years old, going over the falls with the leash wrapping around me probably about 50 times until I got the hang of standing up. I vividly remember catching my first wave and standing up watching the water move so fast around me it felt like I was flying, from there I fell in love. I didn't play sports in school or have much of a social life at all because all I wanted to do was surf. My social life became surfing at about 15 I went homeschooling just to surf and met my soul family at Malibu first point. Bonfires all night, music of friends guitar and harmonicas filled the air, waves coming in perfectly, how could I not stay?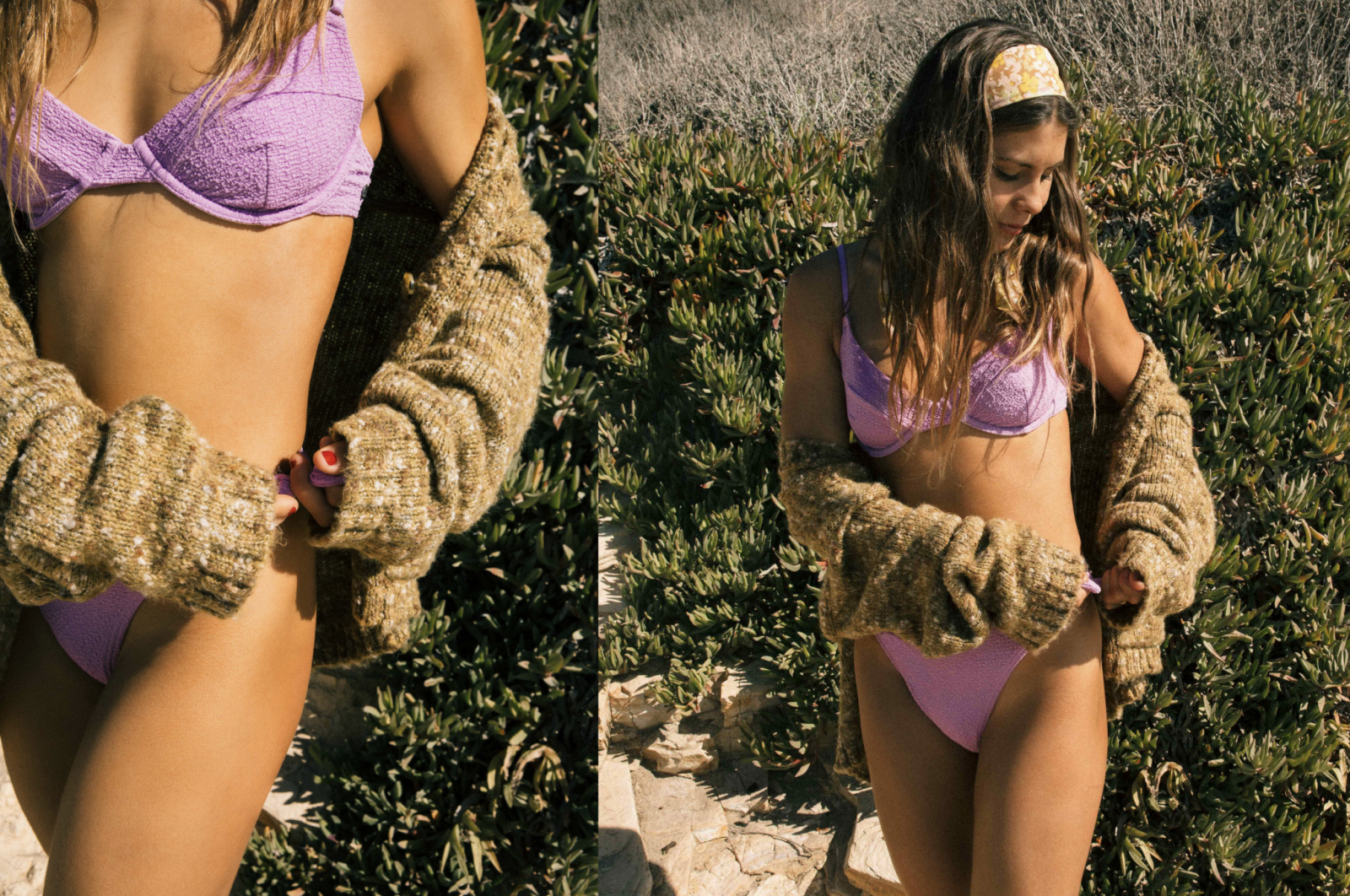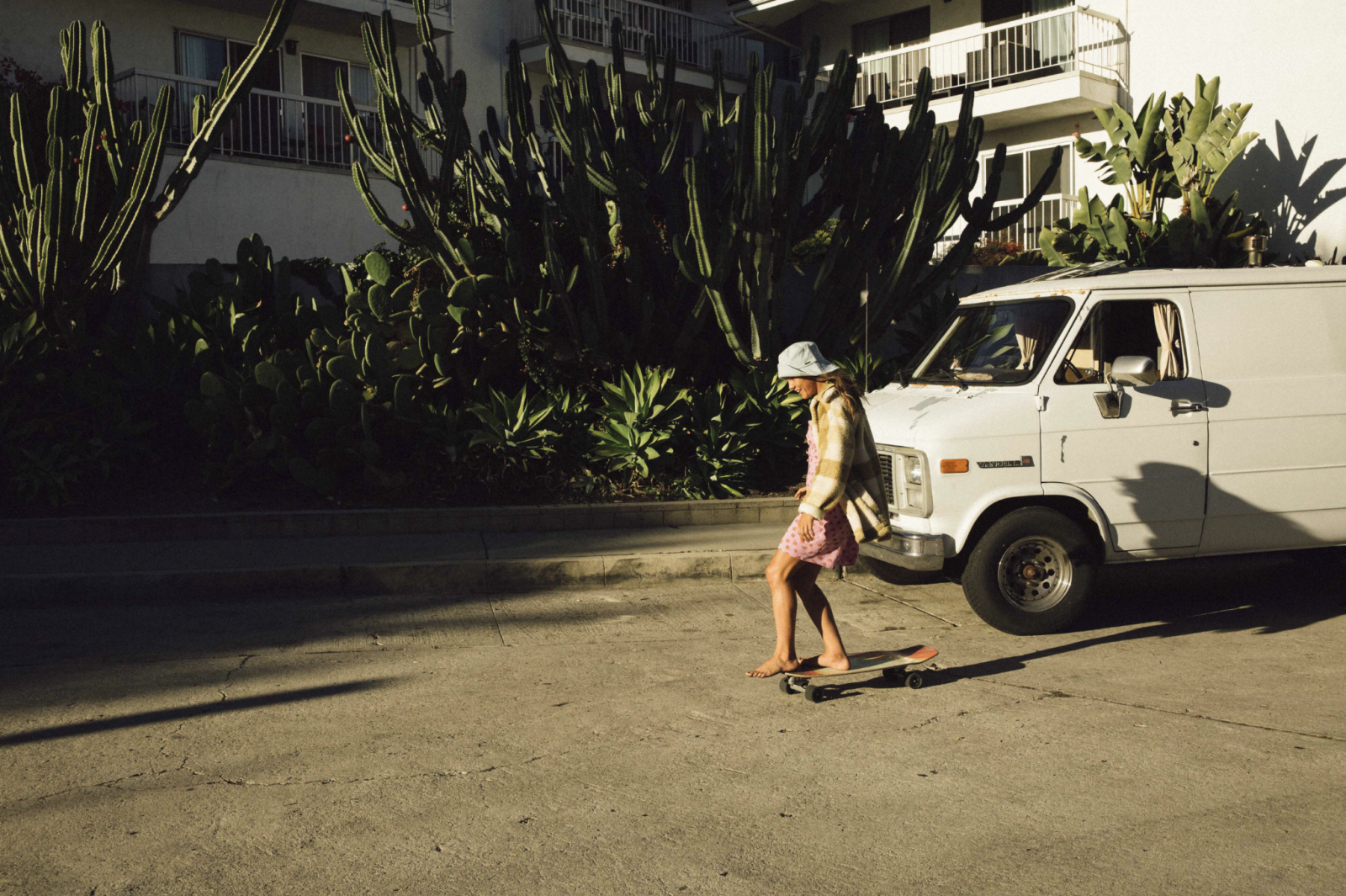 The perfect surf day to me is a hot summer day, perfect 5-6ft consistent waves coming in from second point connecting to first point that ride into the sand. Friends laughter and music fill the air as we all get ready to paddle out together, the wind is calm and the water is glassy. The last day of the swell when everyone is surfed out and ready to go home, the lineup is empty except for a few familiar faces. That describes the perfect surf day to me
A must have piece I wore on the shoot has got to be one of those extremely soft and warm flannels, perfect for the winter after a good surf to cuddle up in a cozy flannel. Cup of coffee in hand, wet hair, so content on the last session; and a warm Billabong flannel to clothe me at the end of the day.